I believe I mentioned in one of my earlier posts that I'm a big fan of Tolkien. Well, today I finally have an excuse to talk about my favorite fandom. Happy Hobbit Day! Hamlette at
The Edge of the Precipice
is hosting a blog party this week in celebration. I am so exited!
Be sure to check out her blog. There are lots of give away's and all kinds of fun stuff!
Here are the questions for the first blog party post:
1. Who introduced you to Tolkien's stories?
Well, I actually had to make the introductions myself. You see, I'd heard of the Lord of the Rings before, but I had no idea what these books were about, so one day I decided to be adventurous and check them out at the library. I have never regretted that decision.

2. How old were you when you first ventured into Middle Earth?
When I checked the Hobbit out at the library I was twelve. I don't know how I didn't hear about Tolkien earlier!


3. Did you read the books first, or see movie versions first?
I read all of the books first. It wasn't until I was thirteen that I saw the movies.


4. A dragon or a balrog -- which would you rather fight?
Hmmm... Well, I think I'd prefer a dragon, although I really hate the idea of being incinerated or roasted and eaten for lunch. At least you can talk a dragon out of doing all of those awful things; with balrogs, well, I'm not sure how easy they are to reason with.


5. Who are three of your favorite characters? (Feel free to elaborate on why.)
What? Only three favorite characters. Hmm... This is extremely difficult.
My first character is Sam. Sam is one of the greatest hero's in the books, but he's often forgotten about. I mean, think about it. He's the one who follows Frodo all the way into Mordor. The one who carries all of the supplies, does all the cooking, keeps Frodo's spirit's up, and even saves his life several times. I don't think I remember Sam complaining once. Now that's a hero.
My second character will have to be Gandalf. He's extremely wise and his sense of humor is wonderful. I wish there were more people like him in real life.What could be more awesome than a wizard who's thousands of years old, has been on hundreds of adventures, and is one of the greatest hero's of Middle Earth, but still makes fireworks for his dear friend's birthday party? Plus, he's got some of the best quotes in the books/movies.
And last but not least, one of my favorite heroines, Eowyn. She is such a strong character and I think she'd be a great friend to have. She's brave, wise, and altogether awesome. And she has some of the best costumes ever.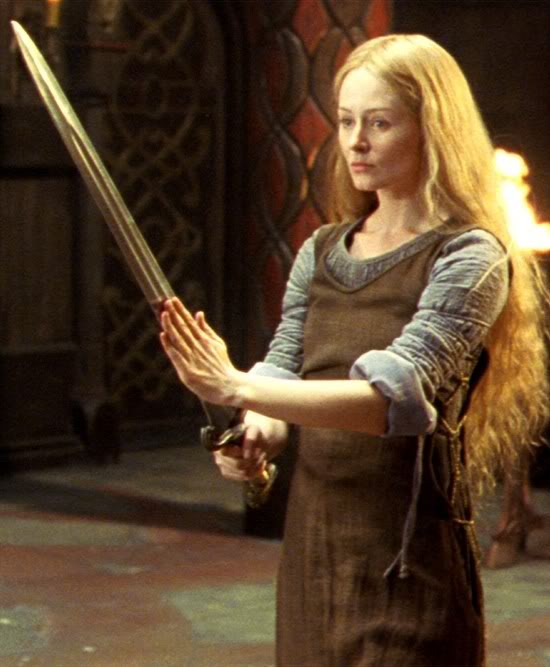 Those are just three of my favorite LOTR characters. What are yours?
6. Have you ever dressed up like a Tolkien character?
I wish. I'm seriously planning on having a Hobbit style birthday party some day with costumes and everything.(-:


7. If someone asks you to go on adventure, how do you respond?
An adventure? Take me with you!


8. Have you read any of the "history of Middle Earth" books?
I have to admit, I haven't, but I intend to own the entire set sometime in the near future. (-: But first I have to read the Silmarillion.


9. Would you rather drink a bowl of Ent Draught or a glass of Old Winyards?
Hmm... I would like to be a little taller, so I think I'd like a bowl of Ent Draught.


10. List up to ten of your favorite lines/quotes from the books or movies.
Doesn't Gandalf have the best quotes?
I'm still looking for an opportunity to use this quote...
~Elizabeth